Discover the secrets of "How to Use SEO to Improve Your Website's Ranking" with this comprehensive guide, covering essential SEO techniques and strategies to boost your website's visibility on search engines. Learn the best practices for keyword research, on-page optimization, technical SEO, and link building to achieve higher search engine rankings and drive organic traffic to your website. Elevate your online presence and unlock your website's full potential with this all-in-one resource for mastering SEO to improve your website's ranking.
A website is essential for any business in the modern digital age. But merely having a website is insufficient; you also need to make sure that your target audience can find it and readily access it. In this case, search engine optimization (SEO) is helpful. The many methods you can implement to raise the search engine ranking of your website will be covered in this post.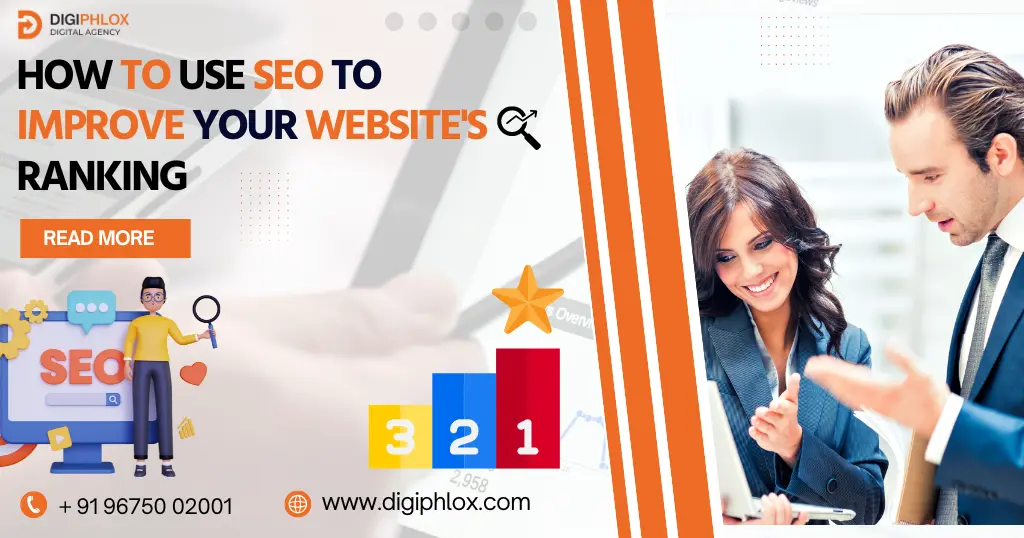 What is SEO?
Search engine optimization (SEO) is modifying your website to increase its visibility and position on search engine results pages (SERPs). The objective of SEO is to drive organic traffic to your website, which can be done by enhancing its user experience, relevancy, and authority.
Importance of SEO
It's essential to have a website that is search engine optimized with more than 3.5 billion searches getting conducted on Google every day. You may enhance organic traffic, brand awareness, lead generation, and sales by increasing your website's search engine ranking.
Understanding Search Engine Algorithms
Search engines utilize sophisticated algorithms to assess a website's authority and relevance. To raise your website's search engine rating, you must understand these algorithms. When determining a website's ranking, search engines take the following into account:
Content relevance and quality
Backlinks and referring domains
User engagement metrics
Website speed and performance
Mobile-friendliness
Domain authority
1. Keyword Research
Any effective SEO strategy must start with keyword research. It entails identifying the keywords or phrases people use to seek online for your products or services. The objective is to find keywords with a high search volume, little competition, and business relevance.
Use resources like Google Keyword Planner, SEMrush, or Ahrefs to begin your keyword research. These tools will assist you in locating keywords that are pertinent to your industry as well as providing important indicators like search volume and level of competition.
2. On-Page Optimization
On-page optimization is the process of optimizing the text and HTML on your website. For your target keywords, you should optimize your title tags, meta descriptions, header tags, and content. The following advice is for on-page optimization:
Title tags – Use descriptive and relevant title tags that include your target keywords. Keep the title tag under 60 characters so that it displays correctly on search engine results pages.
Meta descriptions – Write a compelling meta description that includes your target keywords and encourages users to click through to your website.
Header tags – To format your text, use header tags (H1, H2, H3) and place your target keywords there.
Content optimization – Create high-quality content that is relevant to your target audience and includes your target keywords. Use keyword variations and related terms to make your content more comprehensive.
3. Technical SEO
Technical SEO entails enhancing your website's technical components in order to raise its search engine ranking. This involves optimizing the structure, mobile responsiveness, and speed of your website.
Site speed- Make sure your website loads quickly. Site speed is a key ranking factor. You may assess the speed of your website and find areas for improvement using tools like Google PageSpeed Insights.
Mobile responsiveness – It's critical to have a website that is mobile-friendly as more people use the internet via mobile devices. Ensure sure your website has a responsive design and is mobile-friendly.
Site structure – Search engines will find it simpler to crawl and index your website if it has a well-organized site structure. Make sure the pages of your website have a logical and obvious structure, and that they are appropriately linked.
4. Link Building
The method of getting links from other websites to your website is known as link building. Because backlinks are seen by search engines as a recommendation for the quality of your website, backlinks have an important function in SEO.
Here are some tips for link building:
Guest blogging: Guest blogging is a powerful strategy for constructing backlinks to your website and enhancing its internet presence. Writing excellent guest posts for other websites in your niche while incorporating a link back to your website in the author bio or within the text is what this involves.
Broken link building: Look for broken links on other sites in your niche and offer to replace them with connections to your website. To get backlinks from other websites, one link-building tactic is called "broken link building." The process is looking for broken links on competing websites in your niche and offering to
Directory submissions – One of the earliest and most established methods of link building in SEO is directory submission. A website that lists other websites and classifies them according to their industry or niche is called a directory. In order to obtain backlinks, directory submissions entail submitting your website to pertinent directories.
Content marketing– A properly defined audience must be attracted and maintained through the use of valuable, timely, and consistent content marketing, which has as its ultimate objective the profitable action of the customer. The information can take many different formats, including blog posts, articles, videos, podcasts, social media posts, and more.
Finally, SEO is a long-term strategy that needs ongoing work and supervision. By following the tips outlined in this article, you can improve your website's search engine ranking and attract more traffic and potential customers. Reach out to the best digital marketing experts at Digiphlox to start your enriching journey.
I hope this article helped you to understand, How to Use SEO to Improve Your Website's Ranking
Thank you for reading here, I hope you have liked this article and the article is related to your search. For digital marketing, web designing, SEO, SMM, and more associated services contact with DigiPhlox.