Best website designing & development company in Rishikesh
Welcome to Digiphlox, the best website designing & development in company  Rishikesh, there is one company that stands out from the rest – our company. With a track record of excellence and a commitment to delivering exceptional web solutions, we have earned the reputation of being the best website designing and development company in Rishikesh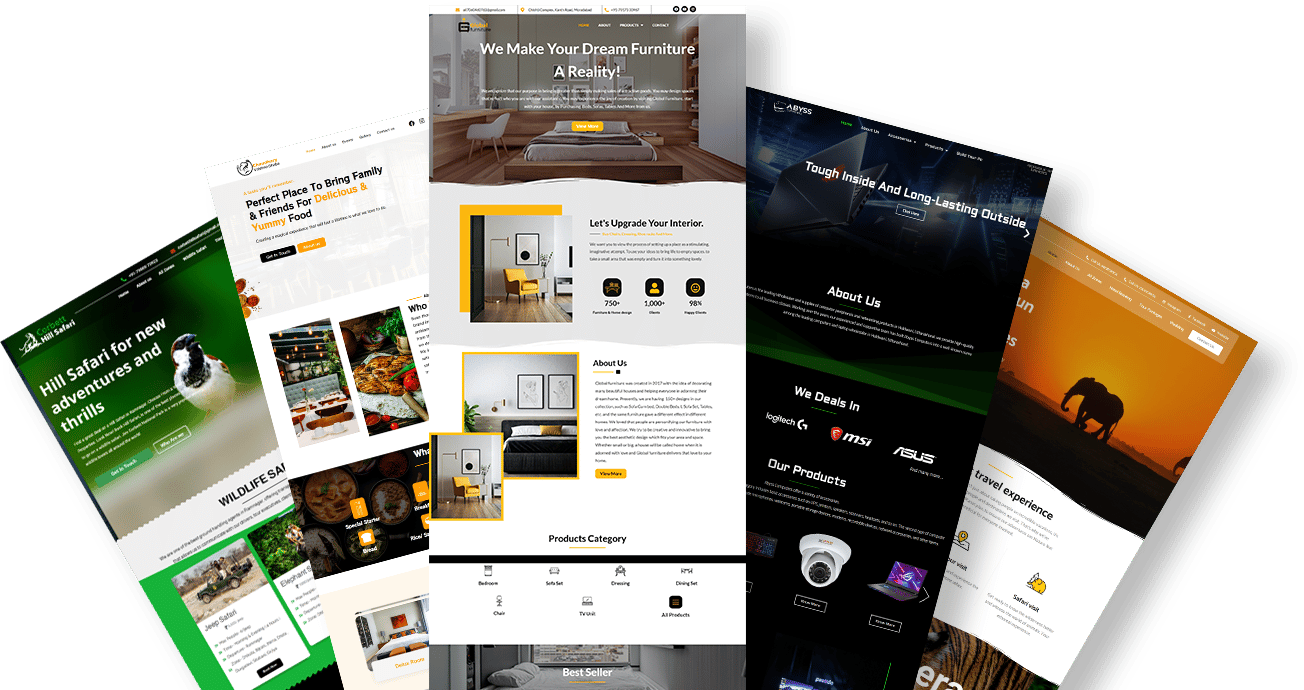 We can assist you with that. We offer a comprehensive range of website design and development services in Rishikesh. Here's a summary of the services we provide:
Custom Website Design: Your team creates visually appealing and highly functional websites that are specifically tailored to meet the unique requirements of each business. By understanding the needs and goals of your clients, you develop websites that effectively represent their brand and engage their target audience.
E-Commerce Development: You specialize in building robust e-commerce platforms that empower businesses to sell their products and services online. Your e-commerce solutions are designed to provide a seamless user experience, secure transactions, and effective management of inventory and customer data.
Website Redesign: You offer website revamping and updating services to enhance the functionality, user experience, and visual appeal of existing websites. By analyzing the current design and performance of a website, you provide strategic improvements to make it more modern, user-friendly, and in line with the latest design trends.
Website Maintenance and Support: Your team provides ongoing maintenance and support services to ensure that websites continue to operate smoothly. This includes regular updates, security enhancements, bug fixes, and performance optimizations. By staying up-to-date with the latest technologies and industry best practices, you help your clients' websites remain secure and relevant.
With your comprehensive range of website design and development services, businesses in Rishikesh can establish a strong online presence, attract customers, and achieve their digital goals.
At Digiphlox, we pride ourselves on delivering top notch design solutions. Our talented team of designers ensures that every visual element, from graphics to videos, is crafted with precision and creativity to leave a lasting impact on your audience.
We employ proven strategies and techniques to maximize your return on investment. Our experts are skilled in targeting specific audiences, optimizing ad performance, and leveraging data driven insights to ensure your social media campaigns deliver measurable results and a strong ROI.
Experienced Professionals
With years of experience in the industry, our team of seasoned professionals brings a wealth of knowledge and expertise to the table. We understand the nuances of social media marketing and are adept at navigating the ever changing landscape, enabling us to provide you with effective and innovative solutions.
We are a dedicated team of professionals who are passionate about web development and design. As a leading company in the industry, we take pride in delivering innovative and impactful solutions that empower businesses to thrive in the digital realm. Our team comprises highly skilled and experienced professionals with expertise in various aspects of web development and design.
We strive to be the best in the industry and provide best web development and design services in Rishikesh. We stand out because of our commitment to excellence and care for our customers. Here are the factors that make us the best choice for your digital needs:
Expert Team: Our team consists of highly skilled professionals who excel in their respective fields. From talented designers and developers to digital strategists and marketers, we bring together a diverse set of experts to deliver comprehensive solutions. Our team's knowledge, experience, and passion for what they do enable us to achieve outstanding results.
Innovative Approach: We embrace innovation and stay at the forefront of industry trends and emerging technologies. Our team constantly explores new ideas and techniques to deliver cutting-edge solutions. By incorporating the latest innovations into our work, we ensure that your website stands out from the competition and stays ahead of the curve.
Design Excellence: We believe that design plays a crucial role in creating a captivating online presence. Our designers have an impeccable eye for aesthetics and a deep understanding of user experience. They craft visually stunning and intuitive designs that engage your audience and leave a lasting impression.
Technical Expertise: Our developers possess strong technical expertise and stay updated with the latest web development technologies. From responsive design to robust functionality, we leverage our technical skills to create websites that are visually appealing, user-friendly, and optimized for performance.
Results-Driven Approach: We are driven by results and focus on delivering tangible outcomes for our clients. Whether it's increasing website traffic, improving conversion rates, or enhancing user engagement, we develop strategies and implement solutions that generate measurable results. Our data-driven approach allows us to continuously optimize and refine our strategies for maximum impact.
Transparent Communication: We support open, honest communication with our clients. We keep you informed and involved throughout the development process, providing regular updates and seeking your feedback. Our team is responsive and accessible, ensuring that your questions are addressed promptly. We value your input and consider it integral to the success of our collaboration.
Timely Delivery: We understand the importance of timeliness in the digital world. Our team follows efficient project management practices to ensure that your project is delivered on time, without compromising on quality.
Client Satisfaction: Our ultimate goal is your satisfaction. We go above and beyond to exceed your expectations and provide a seamless client experience. Your success is our success, and we are dedicated to building long-term relationships based on trust, reliability, and exceptional service.
Scope Of Website Development in Rishikesh
Website Development in Rishikesh
Rishikesh is a city located in the state of Uttarakhand in northern India. It is situated in the foothills of the Himalayas along the banks of the holy river Ganges. Rishikesh is known as the "Yoga Capital of the World" and is a popular destination for spiritual seekers, yoga enthusiasts, and adventure seekers alike.
Rishikesh, known for its spiritual significance and natural beauty, presents an exciting scope for website development. As more businesses and organizations recognize the importance of a strong online presence, the demand for professional website development services in Rishikesh is growing. Here's an overview of the scope of website development in Rishikesh:
Tourism Industry: Rishikesh, nestled in the foothills of the Himalayas and renowned as the "Yoga Capital of the World," attracts a significant number of tourists and spiritual seekers. Website development plays a crucial role in promoting tourism-related businesses such as hotels, resorts, travel agencies, adventure sports providers, yoga retreats, and meditation centers. Developing informative and visually appealing websites can help businesses showcase their offerings, attract visitors, and facilitate online bookings.
Hospitality and Accommodation: Rishikesh offers a diverse range of accommodations, including hotels, guesthouses, homestays, and ashrams. Website development enables hospitality businesses to showcase their facilities, highlight amenities, provide online booking options, and share guest reviews. With an engaging and user-friendly website, businesses can effectively communicate their unique offerings and create a seamless booking experience for travelers.
Yoga and Wellness: Rishikesh is internationally recognized as a hub for yoga, wellness, and spiritual retreats. Website development plays a pivotal role in promoting yoga schools, wellness centers, and holistic healing practices. With an informative and visually appealing website, these businesses can showcase their programs, class schedules, instructor profiles, and provide a platform for online registration and payments. A well-developed website can help establish credibility and attract yoga enthusiasts and spiritual seekers from around the world.
Adventure Sports: Rishikesh offers thrilling adventure sports opportunities such as river rafting, trekking, camping, and bungee jumping. Website development enables adventure sports companies to showcase their activities, safety measures, equipment, and packages. By incorporating captivating visuals, videos, and testimonials, websites can effectively convey the adrenaline-pumping experiences on offer and attract adventure enthusiasts.
Local Businesses and Services: Website development is crucial for local businesses in Rishikesh, including restaurants, cafes, shops, spas, and wellness practitioners. A well-designed website can enhance their visibility, promote special offers, provide contact information, and facilitate online reservations or appointments.
In summary, website development is crucial for businesses in the tourism industry in Rishikesh. It enables hotels, resorts, travel agencies, adventure sports providers, yoga retreats, meditation centers, and other establishments to effectively showcase their offerings, attract visitors, and facilitate online bookings. Additionally, website development plays a vital role in promoting local businesses such as restaurants, cafes, shops, spas, and wellness practitioners, enhancing their visibility and attracting both tourists and local customers
Frequently
Asked

Questions

(FAQ)
Need to improve the online presence of your products or your business?
Visit Our Social Media Profiles
Whether you're just starting out or want to take your business to the next level.