Best website designing & development company in Srinagar Garhwal, Uttarakhand
Welcome to the best website designing & development company in Srinagar Garhwal, Uttarakhand. We take pride in delivering exceptional web solutions that drive results and help businesses thrive in the digital landscape.  With years of industry experience, our team of skilled professionals possesses in-depth knowledge and expertise in website design and development.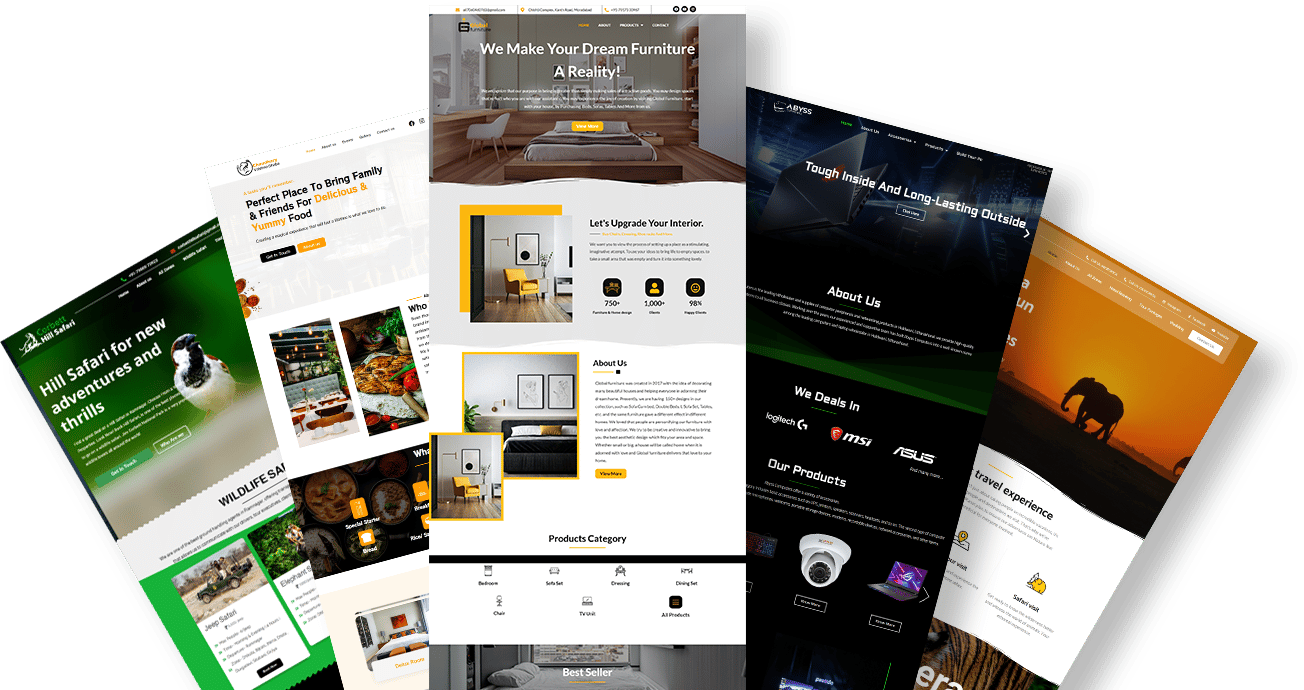 We offer a wide range of website design and development services in Srinagar, Garhwal Uttarakhand, aimed at helping businesses establish a strong online presence and achieve their digital goals. Our team specializes in the following services:
Custom Website Design: We create stunning and effective websites that are tailored to meet the unique needs of your business. Our designs are visually appealing, user-friendly, and optimized for conversions.
E-Commerce Development: We specialize in building robust e-commerce platforms that enable businesses to sell their products and services online. Our solutions include secure payment gateways, inventory management systems, and user-friendly interfaces to enhance the online shopping experience.
Website Redesign:

If you have an existing website that needs a facelift, we can help. We revamp and update websites to improve their functionality, user experience, and visual appeal. Our redesigns are focused on aligning your website with current industry standards and best practices.

Website Maintenance and Support:

We understand the importance of keeping your website running smoothly. Our team provides ongoing maintenance and support services to ensure that your website remains up-to-date with the latest technologies and security measures. We handle updates, backups, security monitoring, and any necessary troubleshooting.
By choosing our website design and development services, you can expect professional and reliable solutions that will help your business thrive in the digital world. Contact us today to discuss your project requirements and take your online presence to the next level.
At Digiphlox, we pride ourselves on delivering top notch design solutions. Our talented team of designers ensures that every visual element, from graphics to videos, is crafted with precision and creativity to leave a lasting impact on your audience.
We employ proven strategies and techniques to maximize your return on investment. Our experts are skilled in targeting specific audiences, optimizing ad performance, and leveraging data driven insights to ensure your social media campaigns deliver measurable results and a strong ROI.
Experienced Professionals
With years of experience in the industry, our team of seasoned professionals brings a wealth of knowledge and expertise to the table. We understand the nuances of social media marketing and are adept at navigating the ever changing landscape, enabling us to provide you with effective and innovative solutions.
We take great pride in our work and are dedicated to exceeding our clients' expectations at every step of the way. From initial consultation to final delivery, we prioritize open communication, collaboration, and attention to detail. Our goal is to ensure that our clients are not only satisfied but also delighted with the results we deliver.
At our website designing and development company in Srinagar, Garhwal Uttarakhand, we take pride in offering the best web solutions for businesses like yours. Here's what sets us apart and makes us the preferred choice:
Unparalleled Expertise: Our team comprises highly skilled professionals with extensive expertise in website designing, development, and digital marketing. With years of industry experience, we have honed our skills and mastered the art of creating exceptional web solutions. Our expertise allows us to deliver top-quality work that meets and exceeds your expectations.

Creative Excellence: Our team consists of talented designers and developers who possess a keen eye for aesthetics and a passion for innovation. We strive to create visually stunning and engaging websites that captivate your audience. Through our creative excellence, we ensure that your online presence stands out from the competition.
Customized Approach: We understand that every business is unique, with its own goals, audience, and brand identity. That's why we take a customized approach to our web solutions. We take the time to understand your specific needs, preferences, and objectives, tailoring our services to align with your business requirements. Our customized approach ensures that you receive a web solution that is perfectly suited to your brand and goals.
Focus on User Experience: User experience is at the forefront of our design philosophy. We believe that a website should not only look visually appealing but also provide a seamless and enjoyable browsing experience. Our team designs websites with intuitive navigation, user-friendly interfaces, and optimized page layouts. By prioritizing user experience, we ensure that your visitors have a positive and engaging interaction with your website.
Advanced Technology and Tools: We stay updated with the latest technological advancements and industry trends. Our team leverages cutting-edge tools, frameworks, and technologies to deliver high-performance websites that are secure, scalable, and future-proof. We continuously enhance our skills and explore new solutions to provide you with the best web development services available.
Exceptional Customer Service: We are committed to providing exceptional customer service and building long-term relationships with our clients. We believe in clear and open communication, and we keep you informed and involved throughout the entire web development process. Our team is responsive, attentive, and dedicated to addressing your concerns, providing guidance, and ensuring your satisfaction.
Proven Track Record: We have a proven track record of delivering successful web solutions to a diverse range of clients. Our portfolio showcases our expertise and the impact we have made on businesses across various industries. We take pride in our past achievements and use them as a foundation to continuously improve and deliver even better results for our clients.
Scope Of Website Development in Srinagar, Garhwal Uttarakhand
Website Development in srinagar, garhwal, uttarakhand
In terms of business, Srinagar, Garhwal offers various opportunities across different sectors. The town has a growing market for tourism-related businesses, including hotels, resorts, adventure sports activities, and travel agencies. Due to its strategic location and proximity to several pilgrimage sites, there is a constant influx of visitors, which presents opportunities for hospitality and service-based businesses.
In Srinagar, Garhwal Uttarakhand, the scope of website development is vast, offering local businesses numerous opportunities to establish a strong online presence. Here's an overview of the scope of website development in Srinagar, Garhwal Uttarakhand:
Business Promotion: A well-designed and professionally developed website serves as a powerful promotional tool for businesses in Srinagar, Garhwal Uttarakhand. It allows businesses to showcase their products, services, and unique offerings to a wider audience. With the increasing use of the internet and online search, having a website can significantly enhance the visibility and reach of local businesses.
Targeting the Online Audience: Srinagar, Garhwal Uttarakhand is home to a diverse online audience that actively seeks information, products, and services through the internet. By developing a website, businesses can effectively target this online audience and connect with potential customers who are specifically searching for their offerings. This targeted approach enables businesses to attract and engage with their ideal customer base.
E-commerce Opportunities: The rise of e-commerce has opened up new avenues for businesses in Srinagar, Garhwal Uttarakhand. Website development enables businesses to tap into the growing trend of online shopping by setting up e-commerce platforms. This allows businesses to sell their products and services online, reaching customers beyond geographical boundaries and expanding their customer base.
Tourism Industry: Srinagar, Garhwal Uttarakhand is renowned for its scenic beauty and attracts a significant number of tourists throughout the year. Website development plays a crucial role in the tourism industry by providing an online platform for hotels, resorts, travel agencies, and other tourism-related businesses to showcase their offerings, provide information to travelers, and facilitate online bookings.
Professional Services: Website development is also relevant for professionals offering various services in Srinagar, Garhwal Uttarakhand. Lawyers, doctors, consultants, and other professionals can create informative websites to showcase their expertise, provide resources, and enable potential clients to connect with them easily. Websites enhance credibility and trust, establishing professionals as leaders in their respective fields.
Online Booking and Reservations: Website development allows businesses in the hospitality, tourism, and event management sectors to provide online booking and reservation systems. This convenience not only attracts customers but also streamlines business operations by automating the booking process, managing availability, and enhancing customer satisfaction.
The scope of website development in Srinagar, Garhwal Uttarakhand is vast and diverse. It empowers local businesses, promotes tourism, facilitates online transactions, disseminates information, enhances professional services, and fosters community engagement. By harnessing the potential of website development, businesses and organizations in Srinagar
Frequently
Asked

Questions

(FAQ)
Need to improve the online presence of your products or your business?
Visit Our Social Media Profiles
Whether you're just starting out or want to take your business to the next level.