Best website designing & Development company in Roorkee
Welcome to Digiphlox – the best Website Designing & Development Company in Roorkee. We specialize in creating captivating and dynamic websites that make a lasting impression.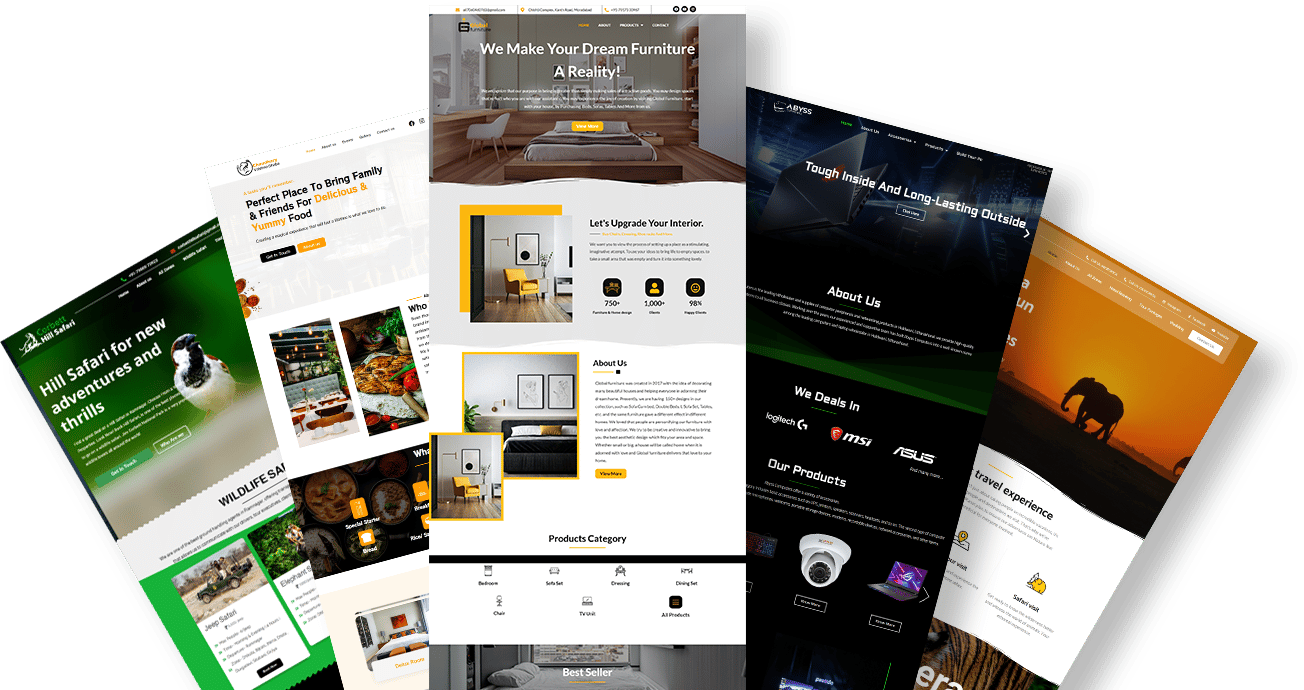 We provide the best website designing & development company in Roorkee. Our experienced developers specialize in building websites with cutting-edge technologies and frameworks. We ensure that your website not only looks stunning but also functions flawlessly across different devices and browsers. From responsive design to custom integrations and interactive features, we leverage the latest tools and techniques to deliver websites that provide a seamless user experience.
E-commerce Solutions: If you're looking to sell products or services online, our e-commerce solutions are designed to meet your specific requirements. We can develop secure and scalable online stores that offer a user-friendly shopping experience, seamless payment gateways, inventory management, and robust order tracking. With our expertise in e-commerce development, we help you maximize your online sales potential.
Content Management Systems (CMS): With our CMS solutions, you can easily manage and update your website's content without any technical knowledge. We work with popular CMS platforms like WordPress, Drupal, and Joomla to provide you with a user-friendly interface that allows you to add, edit, and remove content with ease. Take control of your website and keep it fresh and up to date with our reliable CMS solutions.
Website Maintenance and Support: We provide comprehensive website maintenance and support services to ensure that your website continues to perform at its best. From regular updates and security patches to troubleshooting and performance optimization, our dedicated team is always available to address any issues and keep your website running smoothly.
At Digiphlox, we pride ourselves on delivering top notch design solutions. Our talented team of designers ensures that every visual element, from graphics to videos, is crafted with precision and creativity to leave a lasting impact on your audience.
We employ proven strategies and techniques to maximize your return on investment. Our experts are skilled in targeting specific audiences, optimizing ad performance, and leveraging data driven insights to ensure your social media campaigns deliver measurable results and a strong ROI.
Experienced Professionals
With years of experience in the industry, our team of seasoned professionals brings a wealth of knowledge and expertise to the table. We understand the nuances of social media marketing and are adept at navigating the ever changing landscape, enabling us to provide you with effective and innovative solutions.
We are passionate about delivering exceptional web design and development services. With a focus on creativity, functionality, and user experience, we strive to exceed our client's expectations. Our team combines technical expertise with artistic flair to create websites that not only look great but also drive business growth.
We pride ourselves on being the best website designing and development company in Roorkee. Here are some key factors that set us apart and make us the best choice for all your web design and development needs:
Unparalleled Expertise: Our team consists of highly skilled professionals who possess extensive knowledge and expertise in the field of web design and development. With years of experience under our belt, we have successfully delivered exceptional results for numerous clients across various industries. Our deep understanding of the latest technologies and industry best practices ensures that we provide cutting-edge solutions tailored to your specific requirements.
Customized Approach: We believe that every business is unique, and therefore, we take a customized approach to meet your individual needs. Our team takes the time to understand your business goals, target audience, and brand identity, allowing us to create a website that reflects your vision and effectively communicates your message. We collaborate closely with you throughout the process, ensuring that the end result aligns perfectly with your expectations.
Creative Excellence:We don't settle for ordinary designs; instead, we strive for excellence and innovation in every project we undertake.
Result-Driven Approach: We are dedicated to providing your business with tangible results. Our team works closely with you to understand your business objectives and develop a website that not only looks great but also drives conversions and business growth. By incorporating intuitive navigation, strategic calls-to-action, and search engine optimization techniques, we ensure that your website attracts and engages your target audience, ultimately leading to increased leads, sales, and revenue.
Exceptional Customer Service: At Digiphlox, customer satisfaction is our top priority. With our clients, we aim to build solid, lasting relationships. From the initial consultation to post-launch support, we provide personalized attention and prompt assistance at every step of the process. Our friendly and knowledgeable team is always available to address your questions, concerns, and requests, ensuring a smooth and enjoyable experience throughout your journey with us.
Choose Digiphlox for Unmatched Web Design and Development Services in Roorkee. Experience the Difference!
Scope Of Website Development in Roorkee
Website Development in Roorkee
The city has seen significant growth in recent years, with an increasing number of businesses and industries setting up their operations there. Roorkee's strategic location, well-connected transportation networks, and availability of skilled workforce make it an attractive destination for business ventures.
In the digital age, having a strong online presence is crucial for businesses in Roorkee to thrive and succeed. Website development plays a pivotal role in establishing this online presence and unlocking a world of opportunities. Let's explore the scope of website development in Roorkee and how it can benefit businesses in the region.
Enhanced Visibility and Brand Awareness: A well-designed website acts as a powerful marketing tool, allowing businesses in Roorkee to showcase their products, services, and brand identity to a global audience. With a visually appealing and user-friendly website, you can attract more visitors, increase your brand visibility, and create a lasting impression in the minds of potential customers.
Increased Customer Reach and Engagement: Roorkee is a thriving city with a diverse customer base. By having a professionally developed website, businesses can expand their reach beyond the local market and tap into a wider audience. With features like online catalogs, customer testimonials, and interactive elements, websites can engage visitors and convert them into loyal customers.
Seamless Customer Interaction and Support: Websites provide a platform for businesses in Roorkee to interact with their customers effortlessly. Through contact forms, live chat, and customer support pages, businesses can address queries, provide assistance, and build strong customer relationships. This enhances customer satisfaction and establishes trust, leading to repeat business and positive word-of-mouth referrals.
E-commerce and Online Sales: With the rise of e-commerce, having an online store has become essential for businesses in Roorkee. A well-developed website with secure payment gateways enables businesses to sell products and services online, reaching customers beyond geographical limitations. This opens up new revenue streams and boosts business growth.
Competitive Advantage: In a competitive market like Roorkee, having a professionally designed website gives businesses a competitive edge. A visually appealing and functional website not only attracts customers but also positions businesses as industry leaders. It instills confidence in potential customers, making them more likely to choose your products or services over competitors.
Adaptability and Scalability: Websites can easily adapt to changing business needs and scale as the business grows. Whether it's adding new features, integrating third-party applications, or expanding the website's functionality, website development provides businesses in Roorkee with the flexibility to evolve and stay ahead in the dynamic digital landscape.
In conclusion, website development has immense scope in Roorkee. It empowers businesses to establish a strong online presence, connect with customers, and achieve their growth objectives. By partnering with a reputable website development company, businesses in Roorkee can unlock the full potential of the digital realm and stay ahead in today's competitive market.
Frequently
Asked

Questions

(FAQ)
Need to improve the online presence of your products or your business?
Visit Our Social Media Profiles
Whether you're just starting out or want to take your business to the next level.