Best website designing & development company in Moradabad
Welcome to Digiphlox, the best website designing & development company in Moradabad. We are dedicated to providing exceptional online solutions to businesses and individuals who strive for a strong and impactful digital presence.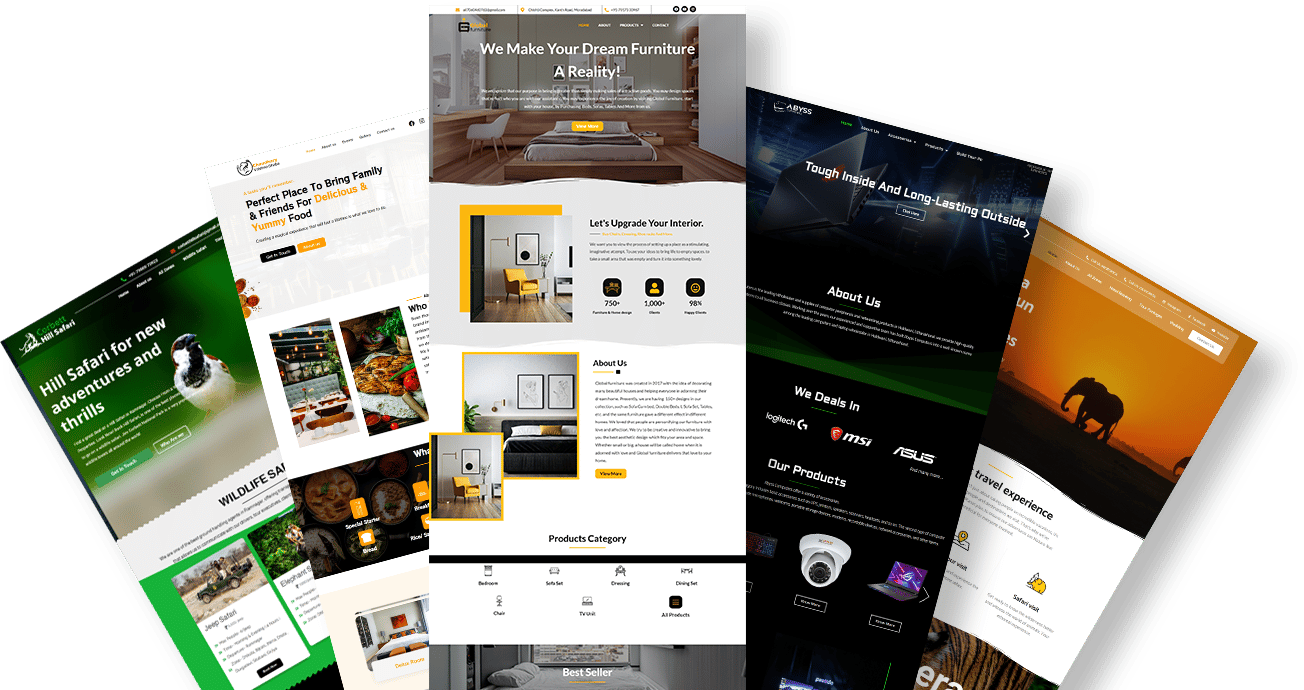 At our company, we offer the best website design and development services in Moradabad to assist businesses in establishing a strong online presence and accomplishing their digital objectives. Our services encompass the following:
Custom Website Design: We specialize in creating stunning and highly effective websites that are customized to meet the unique requirements of your business.
E-Commerce Development: Our team excels in building robust e-commerce platforms that empower businesses to effectively sell their products and services online.
Website Redesign: We revamp and enhance existing websites to improve their functionality, user experience, and visual appeal, ensuring that they align with the latest design trends and industry standards.
Website Maintenance and Support: We provide ongoing website maintenance and support services to guarantee the smooth functioning of your website. This includes keeping your website up-to-date with the latest technologies and implementing necessary security measures.
We are dedicated to delivering top-notch services to our clients, leveraging our expertise and industry best practices. Feel free to contact us for any further inquiries or to discuss your specific website design and development needs.
At Digiphlox, we pride ourselves on delivering top notch design solutions. Our talented team of designers ensures that every visual element, from graphics to videos, is crafted with precision and creativity to leave a lasting impact on your audience.
We employ proven strategies and techniques to maximize your return on investment. Our experts are skilled in targeting specific audiences, optimizing ad performance, and leveraging data driven insights to ensure your social media campaigns deliver measurable results and a strong ROI.
Experienced Professionals
With years of experience in the industry, our team of seasoned professionals brings a wealth of knowledge and expertise to the table. We understand the nuances of social media marketing and are adept at navigating the ever changing landscape, enabling us to provide you with effective and innovative solutions.
Our team is made up of talented and experienced web designers, developers, and marketers who are dedicated to providing exceptional service and delivering outstanding results. We take pride in our work and are committed to exceeding our client's expectations at every step of the way.
We take pride in being the best website designing and development company in Moradabad. Our commitment to excellence and our dedication to delivering outstanding results set us apart from the competition. Here are the key factors that make us the best in the industry:
Our team comprises highly skilled professionals with extensive expertise in website design and development. We have years of experience working with diverse clients across various industries. Our deep knowledge and understanding of the field allow us to provide innovative solutions that meet the unique requirements of each project.

 We believe in the power of customization. We understand that every company is unique and has its own set of aims and objectives. That's why we take a personalized approach to every project, tailoring our services to suit your specific needs. Our customized solutions ensure that your website reflects your brand identity and effectively communicates your message.
We have a team of talented designers who are passionate about creating visually stunning and engaging websites. We blend creativity with user experience principles to design websites that not only captivate your audience but also provide a seamless browsing experience. Our designs are aesthetically pleasing, intuitive, and optimized for conversions.
We stay up-to-date with the latest trends and technologies in website design and development. By utilizing cutting-edge tools and frameworks, we ensure that your website is built using the most advanced and efficient techniques. This allows us to deliver high-performance websites that are scalable, secure, and future-proof.
Our primary focus is on delivering results that drive the success of your business. We work closely with you to understand your goals and objectives, and then develop strategies to achieve them. From increasing online visibility to improving user engagement and driving conversions, we are dedicated to helping you achieve tangible and measurable outcomes.
Scope Of Website Development in Moradabad
Website Development in Moradabad
Website development plays a crucial role in establishing an online presence for businesses and organizations. Moradabad, a picturesque town situated in the northern Indian state of Uttar Pradesh, has witnessed remarkable growth in recent years. As more businesses and organizations recognize the importance of a strong online presence, the demand for professional web development services in Moradabad has skyrocketed.
The advent of e-commerce and the growing significance of digital marketing have made having a website indispensable for businesses in Moradabad. A well-designed website serves as a platform for businesses to connect with their target audience, showcase their products and services, and enhance their visibility in the online realm. Whether you are a small business owner or a large corporation, having a professionally developed website can give you a competitive edge and enable you to reach new customers.
In Moradabad, there are several website development companies that offer a wide range of services, catering to various needs from simple brochure websites to complex e-commerce platforms. These companies have skilled web designers and developers who can create custom websites according to the specific requirements of each client. They stay updated with the latest technologies and design trends to develop visually appealing, user-friendly, and responsive websites that work seamlessly across all devices.
Website development is not limited to businesses in Moradabad; it is also crucial for organizations such as schools, hospitals, NGOs, and government agencies. These entities can utilize their websites to share information, promote their services, and engage with their stakeholders effectively.
To summarize, the scope of website development in Moradabad is extensive and expanding rapidly. Given the increasing significance of a robust online presence, both businesses and organizations in Moradabad can benefit greatly from professional web development services. A well-designed website can help them connect with their target audience, showcase their services, and accomplish their digital objectives.
Frequently
Asked

Questions

(FAQ)
Need to improve the online presence of your products or your business?
Visit Our Social Media Profiles
Whether you're just starting out or want to take your business to the next level.