Best website design company in Ramnagar, Uttarakhand
Welcome to Digiphlox – the best website designing company in Ramnagar, Uttarakhand. We specialize in designing user-friendly, responsive, and visually stunning websites for businesses of all sizes.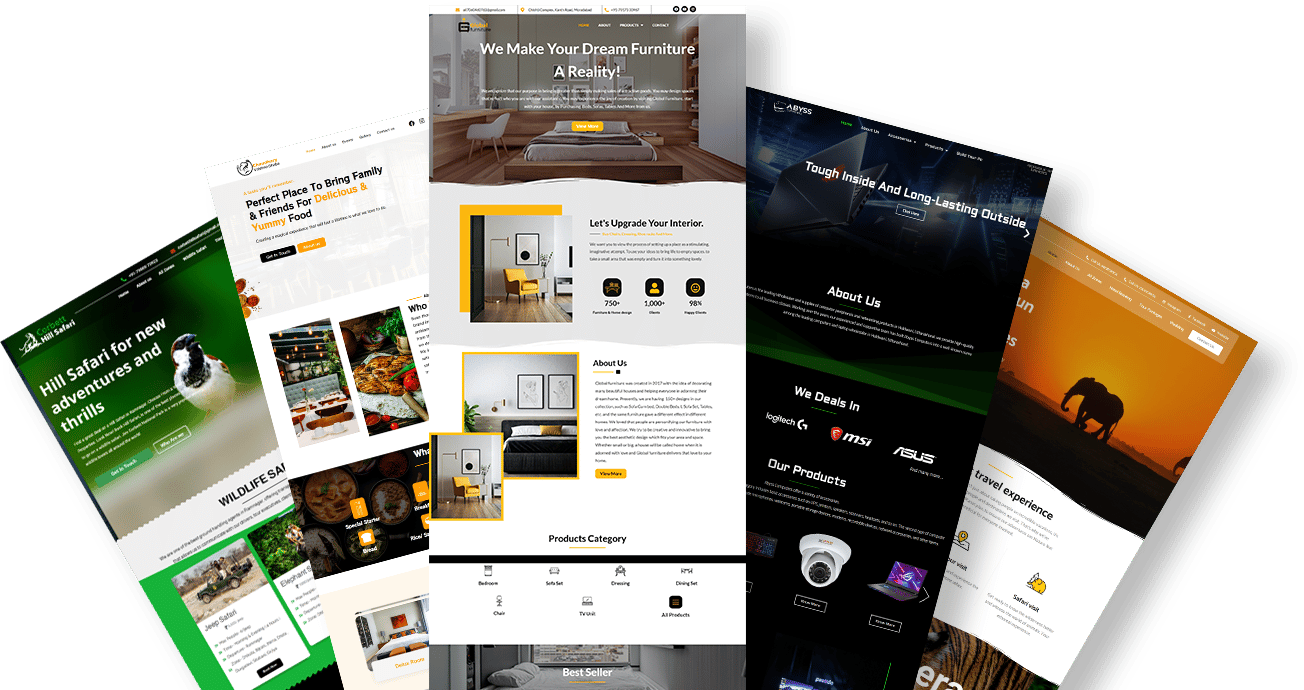 At Digiphlox, we offer a wide range of website designing services to cater to your business needs. Whether you need a simple website or an eCommerce platform, we have the skills and experience to deliver outstanding results. Our services include website design, website development, eCommerce solutions, website maintenance, and more. Browse our portfolio to see examples of our work.
Digiphlox specializes in creating visually appealing designs that perfectly align with your brand. Our creative professionals meticulously craft each element with precision and creativity, ensuring a memorable and impactful visual experience for your audience.
We understand the value of maximizing your return on investment. Our agency employs proven strategies and techniques to optimize your social media campaigns, ensuring measurable results. With our expertise, you can expect efficient and effective campaigns that yield a high ROI for your business.
Experienced Professionals
Our experienced team brings a wealth of knowledge and expertise to every project. From strategists to designers, content creators to advertising specialists, we have a dedicated team focused on driving your social media success. Trust in our experience to deliver exceptional results for your business.
We believe that a website is not just a digital presence but a reflection of your business's values, mission, and vision. Because of this, we work closely with our clients to fully comprehend their specific needs and provide specialized solutions that exceed their expectations.
We take pride in being the best website designing company in Ramnagar, Uttarakhand. Here are some reasons:
Affordable Pricing: We believe that great website design should be accessible to businesses of all sizes, which is why we offer competitive and affordable pricing.
Timely Delivery: We understand that time is of the essence in the business world, which is why we ensure that our projects are completed within the agreed-upon timeline.
Quality Assurance: We have a rigorous quality assurance process to ensure that our websites are error-free, responsive, and user-friendly.
Scope Of Website Development in Ramnagar
Website Development in Ramnagar
Ramnagar, Uttarakhand, is a rapidly developing region with a growing number of businesses and organizations. As the digital world continues to expand, having a strong online presence has become essential for businesses to reach their target audience and achieve their goals. This has led to an increased demand for website development services in the region.
Website development is the process of creating and maintaining websites that are functional, user-friendly, and visually appealing. It involves various aspects such as website design, website coding, website hosting, and website maintenance. Website development services are provided by specialized companies that have the skills and expertise to create websites that meet the specific needs of their clients.
The scope of website development in Ramnagar, Uttarakhand, is vast and diverse. With businesses and organizations in various industries, there is a need for website development services that cater to their unique requirements. Some of the industries that require website development services in Ramnagar include: Tourism, agriculture, education and healthcare.
In conclusion, website development services have significant scope in Ramnagar, Uttarakhand, and are essential for businesses and organizations to establish a strong online presence. With the right website development company, businesses can create websites that are tailored to their specific requirements and help them achieve their digital goals.
Frequently
Asked

Questions

(FAQ)
Need to improve the online presence of your products or your business?
Visit Our Social Media Profiles
Whether you're just starting out or want to take your business to the next level.