Best Social Media Marketing Services in Roorkee
We offer the best social media marketing services in Roorkee, designed to take your business to new heights of success.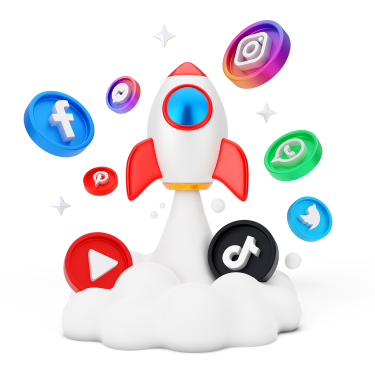 We specialize in providing comprehensive social media marketing solutions that drive business growth and enhance brand visibility in Roorkee. Our strategic approach, creative expertise, and data-driven strategies ensure that your brand stands out in the crowded digital landscape.
Social Media Strategy: Our expertise lies in developing personalized strategies that align with your business goals and target audience. Our primary objective is to establish a robust online presence for your brand.
Design Creatives: Our creative team excels in producing visually captivating and engaging graphics, videos, and images. We understand the significance of captivating your audience's attention and effectively conveying your brand's message.
Social Media Advertising: Leveraging our proficiency in social media advertising, we implement targeted campaigns across various platforms to help you reach a wider audience and drive conversions. By harnessing the power of social media, we can optimize your brand's visibility and impact.
Profile Optimization: We optimize your social media profiles to enhance discoverability, maintain brand consistency, and improve the overall user experience. Our goal is to make your profiles stand out and attract your target audience.
Utilizing Trending Hashtags: We stay up-to-date with the latest trends and incorporate relevant hashtags in your industry. By including trending hashtags in your social media content, we can expand your reach, improve visibility, and generate buzz around your brand.
We're here to assist you in building a powerful and effective social media presence. Let's collaborate to achieve your business objectives!
Ignite your brand with our captivating and innovative content designs. Our creative team at Digiphlox crafts visually stunning and compelling content that captivates your audience. From striking visuals to engaging infographics, we ensure your brand stands out in the digital landscape. Elevate your content game with Digiphlox today
Maximize your online presence with our profile optimization services. We'll revamp your social media profiles ensuring they reflect your brand's unique identity and resonate with your target audience. From captivating bios to eye-catching visuals, we'll optimize every element to make a lasting impression and drive engagement. Trust Digiphlox for a standout online profile.
Take the stress out of managing your social media accounts with Digiphlox's expert account management services. Our dedicated team will handle everything from content creation to scheduling and posting. We'll monitor engagement, respond to comments, and continuously optimize your strategy for optimal results. Sit back and let us handle your social media success.
Make a striking first impression with our captivating cover photos. Our team at Digiphlox specializes in creating visually stunning cover photos that showcase your brand's essence and capture attention. Whether it's on Facebook, Twitter, or any other platform. We'll design cover photos that leave a lasting impact and entice your audience to explore further.
Unleash the power of impactful captions with Digiphlox. Our team specializes in crafting optimized captions that captivate your audience and drive results. From clever wordplay to persuasive storytelling, we'll ensure your captions are tailored to resonate with your target audience and boost engagement. Get ready to make your social media posts shine with our expert caption optimization.
Boost your social media reach with our strategic use of trending hashtags. At Digiphlox, we stay ahead of the curve, identifying and incorporating relevant and popular hashtags into your posts. By leveraging trending hashtags, we ensure your content reaches a wider audience, increases visibility, and drives engagement. Stay on-trend with Digiphlox's hashtag optimization services.
We are a team of dedicated professionals specializing in social media marketing services in Roorkee. With a passion for creativity, a commitment to excellence, and a deep understanding of the digital landscape, we are here to help businesses like yours thrive in the world of social media.
We pride ourselves on being the best social media marketing agency in Roorkee. Our commitment to excellence, innovative approach, and exceptional results set us apart from the competition. Here's what makes us the best choice for your social media marketing needs:
Strategic Expertise: Our team comprises seasoned professionals who possess extensive experience and expertise in social media marketing. We stay at the forefront of industry trends, emerging platforms, and cutting-edge strategies. By combining our knowledge with data-driven insights, we develop customized and highly effective social media marketing strategies tailored to your brand's unique goals and target audience.
Creative Brilliance: Creativity is the cornerstone of our approach. We believe in crafting captivating and visually appealing content that stands out in the digital landscape. Our creative team consists of talented individuals who excel in designing eye-catching visuals, producing engaging videos, and crafting compelling copy that captures the essence of your brand. By infusing creativity into every aspect of our campaigns, we ensure that your brand leaves a lasting impression on your audience.
Customized Solutions: We understand that every business is different and that a universal strategy won't work. That's why we take the time to understand your brand, industry, target audience, and specific objectives. We develop customized solutions tailored to your business needs, ensuring that our strategies align with your vision and deliver tangible results. Our personalized approach sets us apart and enables us to provide tailored solutions that drive your brand's success.
Results-Oriented Approach: Our ultimate goal is to deliver measurable results that have a significant impact on your business. We focus on key performance indicators (KPIs) that matter to your brand, such as increased brand awareness, higher engagement rates, website traffic growth, lead generation, and conversions. By tracking and analyzing the performance of our campaigns, we continuously optimize our strategies to ensure that we deliver the best possible outcomes for your business.
Transparent Communication: We believe it's important to have open lines of communication with our clients. Throughout our partnership, we keep you informed about the progress of your social media campaigns, share detailed reports, and provide insights into the effectiveness of our activities. We value your input and actively seek feedback to ensure that we are consistently meeting and exceeding your expectations. Our transparent communication ensures that you have full visibility into the impact of our efforts.
Client Satisfaction: We are dedicated to providing exceptional customer service and building long-lasting partnerships with our clients. Your success is our success, and we go above and beyond to ensure that you are delighted with our services. We pride ourselves on delivering on time, maintaining open lines of communication, and providing the highest level of professionalism in all aspects of our work.
Scope Of Social Media Marketing in Roorkee
Scope Of Social Media Marketing in Roorkee
Roorkee is a city located in the Indian state of Uttarakhand. It is known for its prestigious educational institutions, including the Indian Institute of Technology (IIT) Roorkee, which attracts students from all over the country.
When it comes to the scope of social media marketing in Roorkee, there is a significant opportunity for businesses to leverage this powerful tool.
Here are a few reasons why social media marketing can be beneficial in Roorkee.
Large Online Audience: Roorkee has a considerable population, including students, professionals, and residents. Many people in Roorkee are active on social media platforms like Facebook, Instagram, Twitter, and LinkedIn. This provides businesses with a wide and diverse audience to target through social media marketing campaigns.

Engaging the Student Community: With the presence of IIT Roorkee and other educational institutions, there is a vibrant student community in the city. Students are highly active on social media and rely on these platforms for information, entertainment, and connecting with brands. Social media marketing allows businesses to effectively engage with the student population in Roorkee and create brand awareness among this influential demographic.

Local Business Promotion: Roorkee has a thriving local business scene, ranging from restaurants and cafes to retail stores and service providers. Social media marketing can help these businesses reach their target audience, increase visibility, and drive footfall or online sales. By leveraging social media platforms, local businesses in Roorkee can effectively promote their products and services, run targeted campaigns, and build a loyal customer base.

Brand Building and Reputation Management: Social media platforms provide a great opportunity for businesses in Roorkee to build their brand image and manage their online reputation. By consistently sharing valuable content, engaging with the audience, and addressing customer feedback, businesses can establish themselves as trustworthy and reliable brands. Social media also allows businesses to monitor and respond to customer reviews and comments, which is crucial for maintaining a positive reputation.

Cost-Effective Marketing: Social media marketing can be a cost-effective way for businesses in Roorkee to promote their products and services. Compared to traditional advertising methods, social media platforms offer targeted advertising options that allow businesses to reach their specific audience at a lower cost. Additionally, social media provides various organic marketing opportunities, such as creating engaging content, running contests, and collaborating with influencers, which can help businesses gain visibility without a hefty marketing budget.
Overall, the scope of social media marketing in Roorkee is promising. Businesses that effectively utilize social media platforms can tap into a large and engaged audience, build their brand, and drive business growth in this dynamic city.
Frequently
Asked

Questions

(FAQ)
Need to improve the online presence of your products or your business?
Visit Our Social Media Profiles
Whether you're just starting out or want to take your business to the next level.