Best Social Media Agency in Bareilly
At the Best Social Media Marketing Services in Bareilly, we understand the vital role that social media plays in building a strong online presence and driving business growth.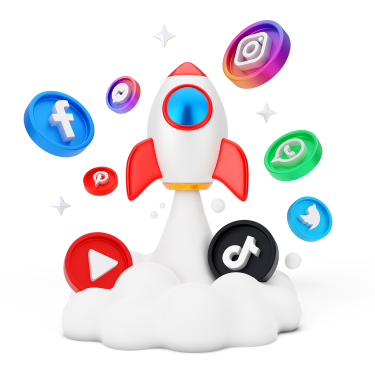 At the Best Social Media Marketing Services in Bareilly, we offer comprehensive services to help businesses maximize their social media presence and achieve exceptional results. Our expert team combines strategic thinking, creativity, and data-driven approaches to deliver tailored solutions that align with your business goals. Here are a few services which we provide : Social Media Strategy, Content Creation, Community Management, Paid Advertising, Influencer Marketing, Analytics and Reporting, and Training and Consultation.
Contact us today to discuss how we can tailor our services to meet your specific social media marketing needs. Let's embark on a transformative journey together and unleash the power of social media for your business.
Ignite your brand with our captivating and innovative content designs. Our creative team at Digiphlox crafts visually stunning and compelling content that captivates your audience. From striking visuals to engaging infographics, we ensure your brand stands out in the digital landscape. Elevate your content game with Digiphlox today
Maximize your online presence with our profile optimization services. We'll revamp your social media profiles ensuring they reflect your brand's unique identity and resonate with your target audience. From captivating bios to eye-catching visuals, we'll optimize every element to make a lasting impression and drive engagement. Trust Digiphlox for a standout online profile.
Take the stress out of managing your social media accounts with Digiphlox's expert account management services. Our dedicated team will handle everything from content creation to scheduling and posting. We'll monitor engagement, respond to comments, and continuously optimize your strategy for optimal results. Sit back and let us handle your social media success.
Make a striking first impression with our captivating cover photos. Our team at Digiphlox specializes in creating visually stunning cover photos that showcase your brand's essence and capture attention. Whether it's on Facebook, Twitter, or any other platform. We'll design cover photos that leave a lasting impact and entice your audience to explore further.
Unleash the power of impactful captions with Digiphlox. Our team specializes in crafting optimized captions that captivate your audience and drive results. From clever wordplay to persuasive storytelling, we'll ensure your captions are tailored to resonate with your target audience and boost engagement. Get ready to make your social media posts shine with our expert caption optimization.
Boost your social media reach with our strategic use of trending hashtags. At Digiphlox, we stay ahead of the curve, identifying and incorporating relevant and popular hashtags into your posts. By leveraging trending hashtags, we ensure your content reaches a wider audience, increases visibility, and drives engagement. Stay on-trend with Digiphlox's hashtag optimization services.
We are a dedicated team of social media experts passionate about helping businesses thrive in the digital landscape. With our wealth of knowledge, experience, and customer-centric approach, we are committed to delivering exceptional results for our clients. 
At the Best Social Media Marketing Services in Bareilly, we take pride in being the best choice for your social media marketing needs. Here are the key factors that set us apart and make us the best in the industry:
Expert Team: Our team consists of highly skilled and experienced professionals who excel in their respective fields of social media marketing. From strategists to content creators, we have experts who are dedicated to staying updated with the latest trends, techniques, and best practices to ensure we deliver top-notch results for our clients.
Customized Approach:

We understand that each business is unique, and there is no one-size-fits-all solution. That's why we take a customized approach to every client's social media marketing campaign. We thoroughly analyze your business, target audience, and goals to create tailored strategies that align with your specific needs and deliver optimal outcomes.

Results-Driven Strategies:

Our focus is on generating measurable results for our clients. We go beyond vanity metrics and concentrate on key performance indicators (KPIs) that matter to your business, such as increased brand awareness, engagement rates, website traffic, leads, and conversions. Our data-driven strategies ensure that your social media efforts are aligned with your business objectives.

Creativity and Innovation:

We believe in the power of creativity and innovation to stand out in the competitive social media landscape. Our team of creative professionals constantly pushes the boundaries to develop captivating content, eye-catching visuals, and engaging campaigns that capture the attention of your target audience and leave a lasting impression.

Transparent Communication

: We value transparent communication with our clients. Throughout the collaboration, we keep you informed about the progress of your campaigns, provide detailed reports and analytics, and welcome your feedback. We believe that open and clear communication is essential to building strong and successful partnerships.

Client Satisfaction: Client satisfaction is at the core of our business. We strive to exceed your expectations, deliver exceptional customer service, and ensure that you are satisfied with the results we achieve for your brand. Your success is our ultimate goal, and we are committed to going the extra mile to help you achieve it.
Scope Of Social Media Marketing in Bareilly
Social Media Marketing in Bareilly
Social media marketing has become an indispensable aspect of digital marketing, and its scope in Bareilly is significant. As a rapidly growing city with a thriving business landscape, Bareilly presents immense opportunities for businesses to leverage social media platforms to reach their target audience, enhance brand visibility, and drive business growth. Here's an overview of the scope of social media marketing in Bareilly.
Reaching a Wider Audience: With a population that is increasingly active on social media platforms, Bareilly offers businesses the chance to tap into a large and diverse audience. Social media enables businesses to target specific demographics, interests, and behaviors, allowing them to reach a wider audience and expand their customer base.
Building Brand Awareness: Social media platforms provide an ideal space for businesses in Bareilly to build and enhance their brand awareness. By developing a strong presence on platforms such as Facebook, Instagram, Twitter, and LinkedIn, businesses can effectively showcase their products, services, and brand values, increasing brand recognition and recall among the local population.
Engaging with the Local Community: Social media offers a unique opportunity for businesses in Bareilly to engage directly with the local community. By actively participating in conversations, responding to customer inquiries, and addressing concerns, businesses can establish meaningful connections with their target audience, fostering trust and loyalty.
Frequently
Asked

Questions

(FAQ)
Need to improve the online presence of your products or your business?
Visit Our Social Media Profiles
Whether you're just starting out or want to take your business to the next level.